Leadership is about influence on others
Bishop Tutu talking about Mandela as a leader:
Leads on behalf of people

Not seeking self glorification

Not furthering his nest
Nathaniel Branden said: "We tend to feel most comfortable, most at home with the person whose self esteem levels resemble us"
Introduction to Leadership
"The truth is most people are not lazy, but simply uninspired"
Ken Blanchard said: We want people working for us who are problem solvers and willing to take initiative. We want people who act like they own the place"
"I don't need a title to be a leader" From a famous politician
Nelson Mandela said "A leader is someone who fearlessly bears the consequences of his/her decisions, who does not strive to be popular, and who walks the road of commitments".
Portrait of a self leader
Self leadership is not about comfort zones or status quo; it is about the passion of continual growth and improvement. Self leaders accept the challenge to make things better to inspire others to become better to win.
"No one is really eager to be managed, while the entire world is hungry to be led" Anonymous
"Optimism is not living in a fantasy world where nothing tragic ever happens, vital optimism is confidence that tragedy is not the last word, that the best is yet to be.
Kouzes & Posner said: If you don't believe the messenger, you won't believe the message".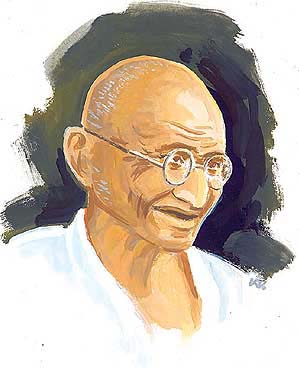 Mahtma Ghandi said:
"The moment there is suspicion about the person's motives everything he does becomes tainted"
"Live as if you were to die tomorrow, and learn as if you were to live forever"
Lord Acton said: "Power corrupts and absolute power corrupts absolutely"
Gardner said: Power is the capacity to ensure the outcomes one wishes, and prevent those one does not wish"
Pfeffer – Managing with Power:
"Power is the potential ability to influence behavior, to change the course of events, to overcome resistance, and to get people do things they would no otherwise do".
John P. Kotter – What leaders really do?
"Successful managers use the power they develop in their relationships, along with persuasion, to influence people on whom they are dependant to behave in ways that make it possible for managers to get their jobs done".
Major General John Standford said: "We don't get our power from our stars and bars; we get our power from the people we lead"
Balthazar Gracian said: "The advantage of power is the ability to do more good"
"Strive for integrity – that means knowing your values in life and becoming in a way that is consistent with the values" Author Unknown.
Benjamin Franklin (1706-1790) said: "I am a strong believer in luck and I find the harder I work the more I have it".